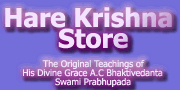 Original 1972
Bhagavad-gita
www.AsItIs.com

---




---
Art Gallery

---
More Information:

Purchase the Book

The Author
Krishna
Reviews


ISKCON is Changing Prabhupada's Books!
---
---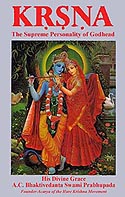 Original Krsna Book
NowOnline
---
....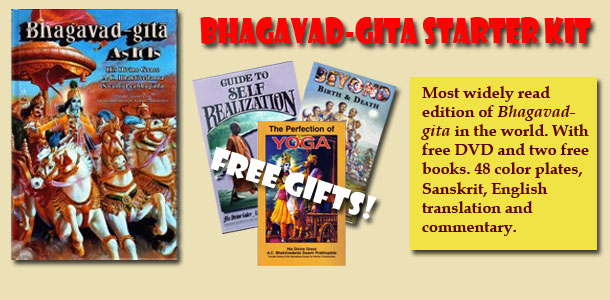 Click Here for Your Bhagavad Gita Starter Kit!
Chapter 6. Sankhya-yoga
TEXT 9
suhrn-mitrary-udasina-
madhyastha-dvesya-bandhusu
sadhusv api ca papesu
sama-buddhir visisyate
SYNONYMS

su-hrt--by nature a well-wisher; mitra--benefactor with affection; ari--enemy; udasina--neutral between belligerents; madhya-stha--mediator between the belligerents; dvesya--envious; bandhusu--among relatives or well-wishers; sadhusu--unto the pious; api--as well as; ca--and; papesu--unto the sinners; sama-buddhih--having equal intelligence; visisyate--is far advanced.

TRANSLATION

A person is said to be still further advanced when he regards all--the honest well-wisher, friends and enemies, the envious, the pious, the sinner and those who are indifferent and impartial--with an equal mind.