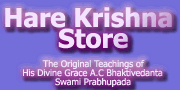 Original 1972
Bhagavad-gita
www.AsItIs.com

---




---
Art Gallery

---
More Information:

Purchase the Book

The Author
Krishna
Reviews


ISKCON is Changing Prabhupada's Books!
---
---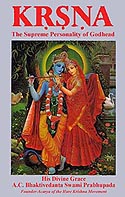 Original Krsna Book
NowOnline
---
....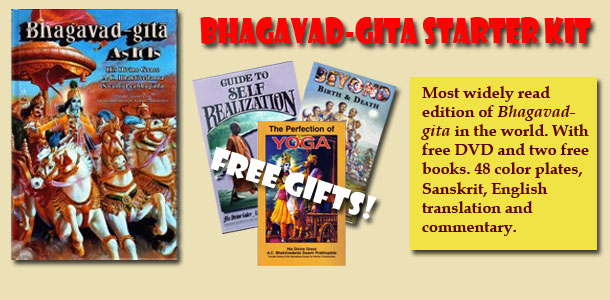 Click Here for Your Bhagavad Gita Starter Kit!
Chapter 6. Sankhya-yoga
TEXT 19
yatha dipo nivata-stho
nengate sopama smrta
yogino yata-cittasya
yunjato yogam atmanah
SYNONYMS

yatha--as; dipah--a lamp; nivata-sthah--in a place without wind; na--does not; ingate--waver; sa upama--compared to that; smrta--likened; yoginah--of the yogi; yata-cittasya--whose mind is controlled; yunjatah--constantly engaged in; yogam--meditation; atmanah--on transcendence.

TRANSLATION

As a lamp in a windless place does not waver, so the transcendentalist, whose mind is controlled, remains always steady in his meditation on the transcendent Self.
PURPORT

A truly Krsna conscious person, always absorbed in transcendence, in constant undisturbed meditation on his worshipable Lord, is as steady as a lamp in a windless place.