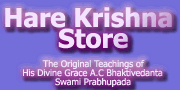 Original 1972
Bhagavad-gita
www.AsItIs.com

---




---
Art Gallery

---
More Information:

Purchase the Book

The Author
Krishna
Reviews


ISKCON is Changing Prabhupada's Books!
---
---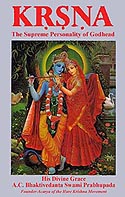 Original Krsna Book
NowOnline
---
....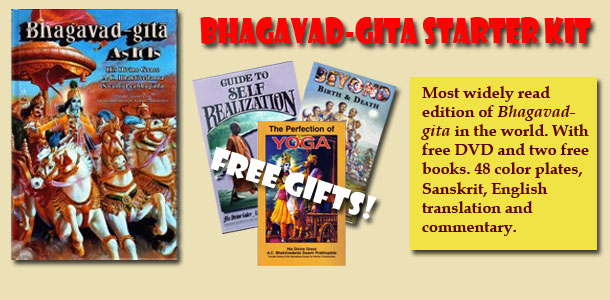 Click Here for Your Bhagavad Gita Starter Kit!
Chapter 17. The Divisions of Faith
TEXT 24
tasmad om ity udahrtya
yajna-dana-tapah-kriyah
pravartante vidhanoktah
satatam brahma-vadinam
SYNONYMS

tasmat--therefore; om--beginning with om; iti--thus; udahrtya--indicating; yajna--sacrifice; dana--charity; tapah--penance; kriyah--performances; pravartante--begin; vidhana-uktah--according to scriptural regulation; satatam--always; brahma-vadinam--of the transcendentalists.

TRANSLATION

Thus the transcendentalists undertake sacrifices, charities, and penances, beginning always with om, to attain the Supreme.
PURPORT

Om tad visnoh paramam padam. The lotus feet of Visnu are the supreme devotional platform. The performance of everything on behalf of the Supreme Personality of Godhead assures the perfection of all activity.