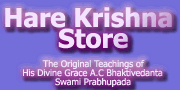 Original 1972
Bhagavad-gita
www.AsItIs.com

---




---
Art Gallery

---
More Information:

Purchase the Book

The Author
Krishna
Reviews


ISKCON is Changing Prabhupada's Books!
---
---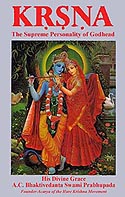 Original Krsna Book
NowOnline
---
....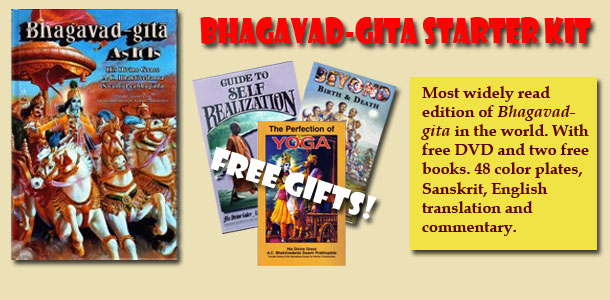 Click Here for Your Bhagavad Gita Starter Kit!
Chapter 1. Observing the Armies on the Battlefield of Kuruksetra
TEXT 13
tatah sankhas ca bheryas ca
panavanaka-gomukhah
sahasaivabhyahanyanta
sa sabdas tumulo 'bhavat
SYNONYMS

tatah--thereafter; sankhah--conchshells; ca--also; bheryah--bugles; ca--and; panava-anaka--trumpets and drums; go-mukhah--horns; sahasa--all of a sudden; eva--certainly; abhyahanyanta--being simultaneously sounded; sah--that; sabdah--combined sound; tumulah--tumultuous; abhavat--became.

TRANSLATION

After that, the conchshells, bugles, trumpets, drums and horns were all suddenly sounded, and the combined sound was tumultuous.